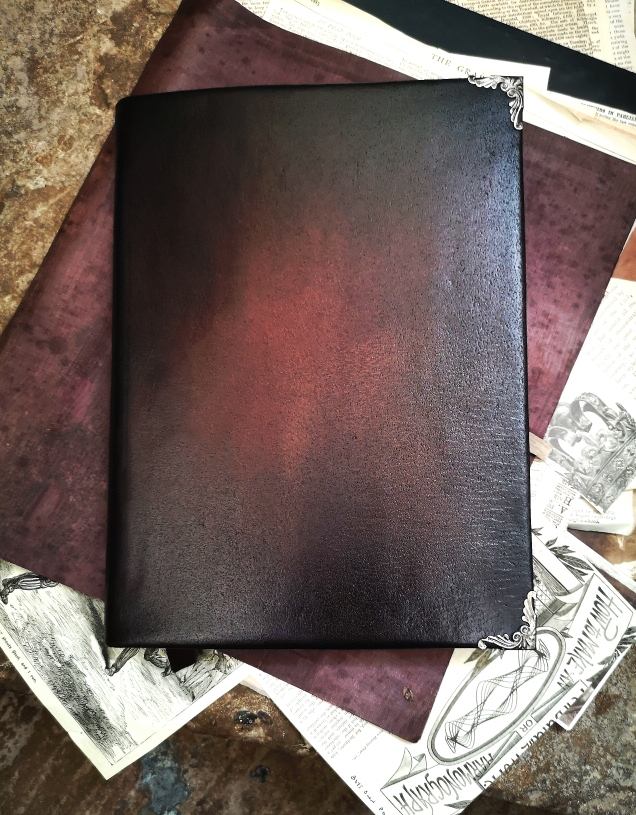 Dreaming of Cowboys and Victorians
The Victorian Ledger Is at last finished and has been dispatched down to Cornwall to be part of a museum display about the Victorian firebrand Emily Hobhouse, a political campaigner and feminist.
What a lovely, busy weekend we have had running workshops in Sheffield and Leeds. Over sixty people attended the pick pocket purse making workshop in South Yorkshire and went away happy with their final pieces.
In Leeds we were making plant hangers and had the opportunity to work with the very versatile tooling shoulder cowhide. This leather is ideal for lots of projects as it has so many brilliant qualities. You can; dye it, wax it in different colours, emboss it and carve it and not only that it burnishes beautifully and like your own skin darkens in the sunlight. This means that no two plant hangers are the same; enabling you to create a unique piece with its very own character.
Other fun facts about this leather is that due to it's smooth, unwaxed surface and pliable properties, it is favoured by cowboys for producing Western style carvings of intricate patterns, natural forms and scenes from nature, so maybe we will move onto wide brimmed hats, tall pointy boots and leather chaps next…..
#westernstyle #leathercarving #victoriana #cowboystyle #lucky8 #reenactionkit #leatherrestoration #leatherreproduction #historicleather
#leathergoods #ukcrafts #handmadeleather #uniquegifts #craftcourses #leatherworkshops #giftsforgroom #ukhandmade #learnacraft #repairandrecycle #craftcoursesyorkshire #homewares #dogsofinstagram
Email:cathy@ce-leathergoods.com
Mobile: 07720715418
Twitter:@cathybags
Facebook:catherineedwardsleather
Website: ce-leathergoods.com
Instagram: catherineedwardsleather catherineedwardsworkshop